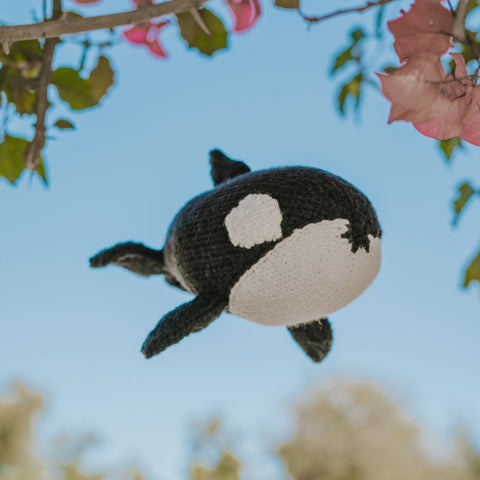 Just last May 2019, a female baby orca was born!  The baby's appearance is particularly good news since only 76 of these endangered whales are left. Births in recent years have been overwhelmingly male.  The mother and baby appeared in inland waters off San Juan Island, Washington in July 2019, swimming in circles with three other young females. 
Female orcas birth once every three to 10 years to a single offspring. The mother is 24 and could have more offspring. A typical female will have 3 to 5 calves during her lifetime.   We thought of knittng a Baby Orca to remember and celebrate this moment and this beautiful creature!  
Each Baby Orca measures approximately 9 inches long.  Do remember, that each hand knit item is unique and sizes may vary slightly.   

Hand knit with love by a mama who also plants rice in the rice terraces (take a look at the P20 bill to see what they look like).
Knitting Expedition was begun as a way to provide supplementary income for the women of Ifugao to maintain the rice terraces.  Instead of leaving the region to find better paying jobs, the income from the sales of the products allows them to stay and tend to the rice terraces that are not only an awe-inspiring legacy of their town but also of the Philippines and which has provided sustenance for generations of their families.  The brand Knitting Expedition also signifies the journey of founders, Candy and Aueeie, as knitters and the distance that the hand-knit products have to travel to make it to your homes.
*pattern by Rachel Borello Carroll
Related Products
---